The Great Debate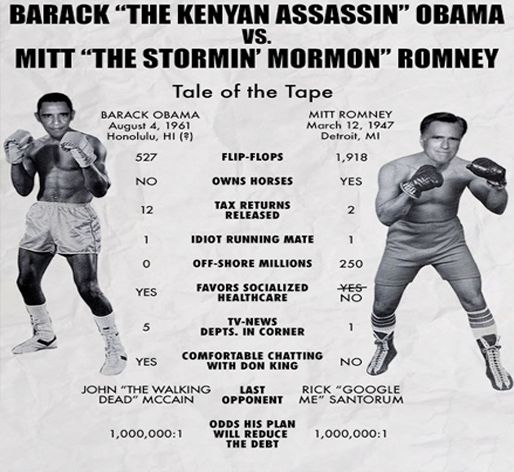 Every four years, a very specific question arises in America. A question that garners attention from all around the world. That question, of course, is "who will become the next President of the United States?"
In all honesty, I really think Obama is taking his 2nd term in Office this November. With the amount of bad press R-Money's been getting over the election cycle (excluding Fox "News" of course), it's hard to see him winning the popular vote. Does that mean if he loses the popular vote, he has no chance at the actual collection (the electoral college is the body that actually elects our president)? You might think so, but Al Gore would probably disagree. That being said though, I don't see it happening.
Now, the more important question: Does it matter who wins the Presidential Election? 
I'd be lying if I said I really thought it mattered who was elected as POTUS. Sure, some people will be affected in different ways depending on whether or not it's Obama or Romney in the Big Seat. But that's short term, and more-or-less inconsequential. Neither candidate is going to stop the downward spiral our Economy's been on for a long time now. Yes, each candidate might slow down the spiral depending on their methods (or maybe even speed it up if the wrong policies are implemented). But I truly believe that neither of these two men will make a positive long-term impact on our nation.
Why? Because positively impacting our nation with lasting outcomes means overhauling the system. -A broken system that places 2 individuals on pedestals every 4 years as if there's a real choice to be made. The same 2 individuals financially backed and funded by the same handful of corporations and private interests. -A broken system that still holds a 2-party system, in a nation of 314 MILLION people. That's right, 314 million citizens, 2 parties. -A broken system that claims laissez faire, but bails out corporations that make bad investments, and then turns around and gives the bill to its citizens. -A broken system that holds civil liberties in such low regard that ordinary phone conversations, email correspondences, and text messages are all subject to government eyes. -A broken system that now allows for indefinite detention with the passing (and signing by Obama) of NDAA2012. -A broken system that unjustly kills citizens of other nations because there's a profit in their deaths and the military-industrial complex is hungry. -A broken system that incarcerates its own citizens to feed the for-profit prison industry. -A broken system that, quite frankly, doesn't give a fvck about you or me…
I guess the real question isn't "does it matter who wins the presidential election?" The real question is: When are we going to make it matter? Because unless we do something about it, history is bound to repeat itself.
When people ask me if I'm gonna cast a ballot this election (given all the criticisms I have of our failed political system) I always say yes, because I plan to. 
I'll tell you one thing though, neither of these 2 puppets are getting my vote.
-P